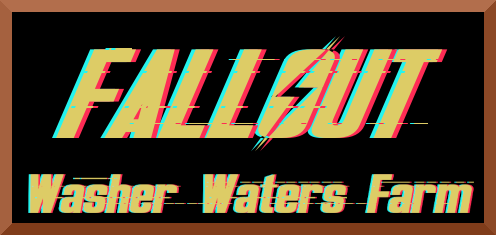 Fallout: Washer Waters Farm
A downloadable Fallout fangame for Windows and Linux
You have been hired by a disgruntled water saleswoman to spy on Washer Waters Farm. This farm has not been open long but is already selling strangely large quantities of purified water; it is your job to find their secret.

Aided by a heavily-customized robobrain named Darlene, you investigate Washer Waters and discover the secret to their success. What you do with this information once you retrieve it is all up to you!
A bite-sized Fallout experience
Stylized after New Vegas' writing style and branching quests
Four potential outcomes based on your decisions!
Setpieces, people, and robots crafted and/or photographed in Fallout 4: GOTY Edition!
Ranked 2nd for Story/Mood/Atmosphere; 4th for Audio, Fun, Overall; 8th for Graphics, and 9th for Creativity in MFGG Jam 5!
Content Warning:
As this is a visual novel written to feel at least somewhat like a quest in a Fallout: New Vegas, it contains content as such.
Be prepared for harsh language, situations of ambiguous morals, and flirting with robots.
Also, the speech checks are not actual checks. They are meant as humorous decor/references. The jam this fangame was made for was not long enough for actual speech checks. :-(
Finally, there is a robot named X.B.O.X.-360. This was done to make sure the game fit the jam theme. It may be lore-breaking but honestly, the name has grown on me and I refuse to change it post-jam.
Download
Download
FalloutWasherWaters-1.0-market.zip
142 MB
Comments
Log in with itch.io to leave a comment.
Nice novel, really captures the vibe of fallout, also can romance a robot. Win in my book.